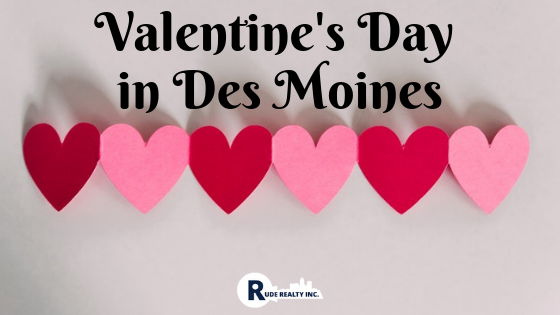 Looking for the perfect way to celebrate this year? We've compiled a list of events happening in the Des Moines area, as well as a few special dinner spots to take your valentine. Whether you're celebrating with a significant other, with friends, or on your own, there's something for everyone.

"Apollo and Venus" Viewing at Hoyt Sherman Place
In 2016, a hidden painting was discovered in storage at downtown Des Moines' Hoyt Sherman Place. It was discovered to be "Apollo and Venus, a painting by Dutch artist Otto Van Veen. According to Smithsonian.com, the painting "was painted between 1595 and 1600. It depicts Venus as an artist painting the 'Mountain of Love.' Next to her is Apollo, lyre in hand. A chubby little Cupid stands below Venus, clutching his miniature bow" (smithsonianmag.com). The painting can be viewed alongside the other works of art displayed in Hoyt Sherman's gallery weekdays between 9a.m. and 5p.m.
Galentine's Bash at Clive Library
Celebrate the evening with a girls' night complete with games, chocolate, mocktails, and more! Taking place from 6:30-7:30p.m. at the Clive Public Library, this event is free of charge and open to all ladies.
Valentine's Pet Photos at Clemens Open House
Take a tour of Clemens luxury apartments in downtown Des Moines on February 13 from 4-6p.m., and bring along your pet, too - Valentine's themed photos will be provided by photographer Jared Heidemann. You can also enter to win a gift card to Bubba for you and your valentine.
Love Note with Fred Gazzo
Enjoy an evening of jazz music at The Conservatory East Village. Each ticket includes a glass of champagne and complimentary cheese display. This event is only $14 and takes place from 8-11p.m. on February 14.
Valentine Skate at Brenton Skating Plaza
From noon-9p.m. on Valentine's Day, treat your special someone to ice skating at Brenton! Entry is $9, and prizes from Boesen the Florist, Chocolaterie Stam, Embassy Suites, and more will be awarded every hour.
Cupcake and Beer Pairing at Peace Tree
Visit Peace Tree Brewing on February 14 between 5-10p.m. to pair a 5oz. Imperial Blonde, 5oz. Blonde Fatale, and a mini cupcake from Molly's Cupcakes for only $8! This offer is only valid while supplies last, so be sure to make it your first stop on Valentine's Day.
Wine and Food Pairing
This event at Summerset Winery in Indianola has two options for you to attend: February 14 6-7:30p.m. and February 17 noon-1:30p.m. $35 gets you a tasting of six wines, a glass of sparking wine, holiday-themed treats to pair with each wine, a tour of the wine cellar, and Summerset logo collector wine glass. Registration is required, so be sure to get your spot ASAP!

For additional information on any of the above events, visit Catch DSM Events Calendar.

Aposto at the Scala House
This Sherman Hill restaurant features Italian, French, and Mediterranean cuisine in a unique setting - it's housed inside an 1880 Victorian mansion. Aposto is offering a Valentine's menu, and can accomodate vegetarian meals.
Harbinger
Harbinger proudly supports local farms and brings their products straight to the table. They are offering two Valentine menu specials, with the option of adding on a wine pairing.
Table 128
This Des Moines restaurant will be presenting Valentine menus between February 13 - February 16, allowing you time to enjoy these special offerings even if you want to avoid the February 14 crowds.
Vino209 Wine Cafe
Located in Valley Junction, this local restaurant is also offering their Valentine's menu beyond the 14th. For the holiday there will be a three course meal with locally-sourced ingredients. The price of the meal also includes a glass of wine, with other wine selections available as well.

Check out the Des Moines Register for a look at more local spots offering Valentine's Day and weekend special menus. No matter who you're celebrating with or what you choose to do, we hope you enjoy the day!