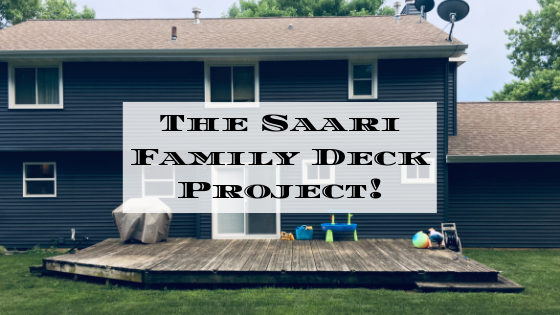 My family and I moved into our home about a year and a half ago. We went through a very extensive remodel of the main floor right away. We had picked this home knowing there would be many updates and remodels in our future.
Our next big project was to replace the existing deck. The deck was constructed out of wood and appeared to have been there for many years. Unfortunately, it had been neglected causing the wood boards to warp, rot, and dry out causing splinters to form. The decking was no longer safe to have our 2 young children crawl and play on it. Our 2-year-old son loves to be outside and play with his water table on the deck. With the poor condition of the deck boards, we always needed to make sure he had some kind of footwear to protect his feet from splinters. Our youngest is still crawling and she loves to be out following her big brother but because of the high likelihood of splinters, we can not have her out there.
We decided this past June to replace our deck completely. We removed all the old boards supporting the foundation. We found rotten wood and evidence of bugs eating away at it. To help expedite the removal of the old deck I had a friend come with his chainsaw and cut 2 lines down the deck. This made it much easier and more efficient to pull the boards off. We had over 3,000 pounds worth of deck scrap. I had it put on a trailer and then hauled away to the local dump. It cost about $55 at the time.
More updates to come.