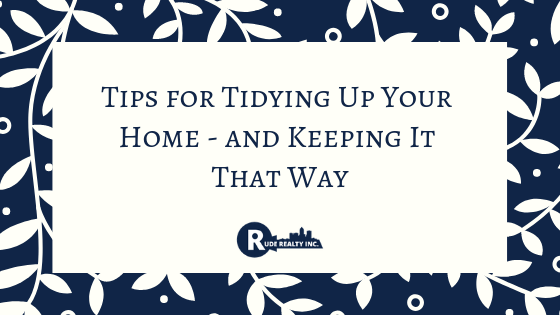 Tidying up your home can be daunting! Taking a look at all your possessions can feel slightly overwhelming, and going through them all even more so. But it doesn't have to be! By following these tips, you can make the process painless – and keep your home clutter free in the future.
Decide if You Want to Work Room by Room or Category by Category
Many people automatically think about cleaning as working through one room at a time. This can certainly be helpful, and feel a little less intimidating. You can also use the KonMari method – made famous by author Marie Kondo and most recently her Netflix show "Tidying Up." What is KonMari? According to the official KonMari site, "The KonMari Method™ encourages tidying by category – not by location – beginning with clothes, then moving on to books, papers, komono (miscellaneous items), and, finally, sentimental items. Keep only those things that speak to the heart, and discard items that no longer spark joy. Thank them for their service – then let them go"(https://konmari.com/pages/about). No matter which method you choose, commit to it and follow through.
Move Everything Out in the Open
This might seem a little counter-intuitive while you're doing it. Bringing everything out in the open can look a little messy at first, but it's for the best. Seeing everything at the same time allows you to know what you can get rid of, especially if you have duplicates already.
Create Keep/Donate/Toss Boxes
As you go through your belongings, decide if you want to keep them, donate/sell them, or throw them away. Some items can be sold to consignment shops that offer money for donations (such as Plato's Closet and Half Price Books); you can also hold a garage or yard sale to get a little cash for the things you no longer have use for. For items that aren't sold but are still useable, donations are a great way for someone else to get a little more life out of them. In the Des Moines area, there are many organizations that will accept donations – some of them are highlighted at the end of this blog.
Implement Systems of Organization
The best way to plan your organization is to wait until you've gone through your items. This way you know just what kind of organization will work best. Shelving, boxes, and hooks are all utilized often by author and television host Marie Kondo. One tip is to use transparent boxes. Clear boxes will show you what's inside without having to dig through them. Additionally, Kondo emphasizes placing things standing up - particularly clothing in dressers and boxes. Much like transparent boxes, this method allows you to see everything at once. It also takes up less room in drawers, allowing you to put more items in less space.
Tidy Up in the Moment and Go Through Belongings Regularly
Putting things away right as you're done with them is the simplest way of keeping your home tidy after an initial purge. Put laundry away as soon as it's out of the dryer, unload the dishwasher right away, etc. Sometimes we get busy, though, and things inevitably pile up. Because of this, it's also helpful to have a plan for tidying up regularly. Whether it's weekly, bi-weekly, or monthly, make a checklist of areas to go through and cleaning projects. If you stick to your schedule, your home will stay nice and tidy!
Easy Ways to Donate
The Des Moines area has many organizations which accept a variety of items. Here are just a few:
•Foster Care Closets
Foster care closets are a resource for foster parents to assist in the costs associated with bringing a new child into the home; they accept clothing, toys, furniture, and baby accessories. There are a multitude of locations across the country, and many right here in Iowa. For a full list visit http://www.fostercoalition.com/foster-care-closets
•Freedom for Youth
Freedom for Youth is an organization that provides "young people from kindergarten through 22-years old with programs that help them stay in school, learn life skills, prepare for the workplace, and develop healthy relationships. [Their] programs include tutoring, after-school activities, meals, and supportive employment training" (https://www.freedomforyouth.org/about-us/about.html). Freedom for Youth takes donations of all sorts – from board games and craft kits, to toiletries and warm weather gear such as hats and gloves. To learn more about how to donate, visit https://www.freedomforyouth.org/give/material.html
•St. Vincent de Paul
As stated by the St. Vincent de Paul website, it is a "non-profit charitable organization providing a unique style of personal assistance with food, clothing, rent, utilities, educational and job training and other services to people facing economic, emotional or spiritual crises" (http://svdpdsm.org/about/who-we-are/). It's easy to donate anything from food, to clothing, to appliances – even cars! If you'd like to find out more about donating to one of St. Vincent de Paul's Des Moines locations, visit their donations page at http://svdpdsm.org/donations/