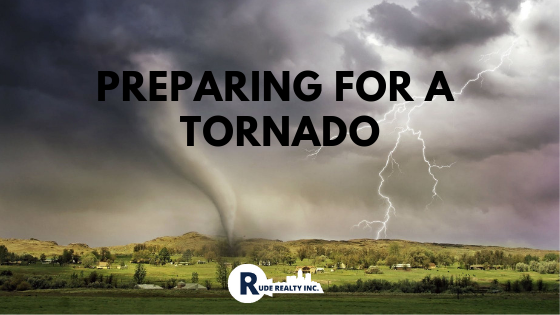 It's officially tornado season! Of course we all think it could never happen to us – but it's a reality many face at some point. That's why it's vital to know what to do in case the worst happens.

Before and During

Identify a Safe Place to Seek Shelter. If your home has a cellar or basement, this is the natural go-to. However, if you are in a house or without a basement or are in an apartment, this is not an option. In this case, head for an interior room without windows, preferably on the lowest floor. Mobile homes, on the other hand, should not be considered a safe space in the event of a tornado no matter which room you are in. Be aware of sturdy buildings nearby that you can get to quickly if necessary.
Assemble an Emergency Kit. This should include: water, non-perishable food, flashlight, battery-powered or hand-crank radio, extra batteries, first aid kit, multi-purpose tool, family and emergency contact information, emergency blanket. Other items can also be very useful in an emergency kit as well.
Create an Evacuation Plan. Figure out the best place to go there and how you will get there. Everyone in the family should be aware of the plan, and accommodations should be made for younger family members and pets who cannot fulfill the plan on their own. You can also practice the evacuation, particularly if you have younger children.
Keep Dead and Damaged Limbs Off Trees. In the event of a tornado, weak limbs can easily be blown off trees and can harm you, your vehicles, and your home. Remove these limbs as needed to prevent this from happening.
Pay Attention to Warnings. TV, radio, and the tornado siren will all alert you to tornado watches and warnings. Don't wait to see the tornado with your own ideas – if a tornado warning is issued for your area, get you and your family to your safe spot immediately. Keep an eye on news and weather updates to know when it's safe to come out.
If Your Home is Damaged
Wear long pants and sleeves as well as sturdy shoes while going through your home.
Let your friends and family know you're safe.
Seek help from professionals if repairing significant damage.