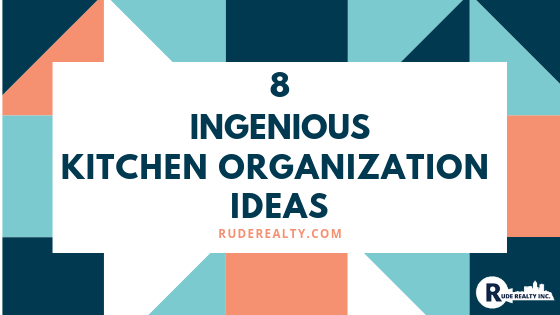 One room in most people's homes that always seems to have more items than space is, without a doubt, the kitchen. Between food storage, dishes, utensils, appliances...finding a place for everything can prove to be a real challenge. Thankfully, the internet provides a plethora of ideas and materials to help you make the most of your kitchen. Below, we've put together a list of eight of our favorite methods of making your kitchen work for you. Whether your kitchen is of the galley variety, can fit the whole extended family at once, or is somewhere in between, these ideas can be utilized to fit everything in without sacrificing a clean, well-kept appearance.
1. Hidden Pantry Shelves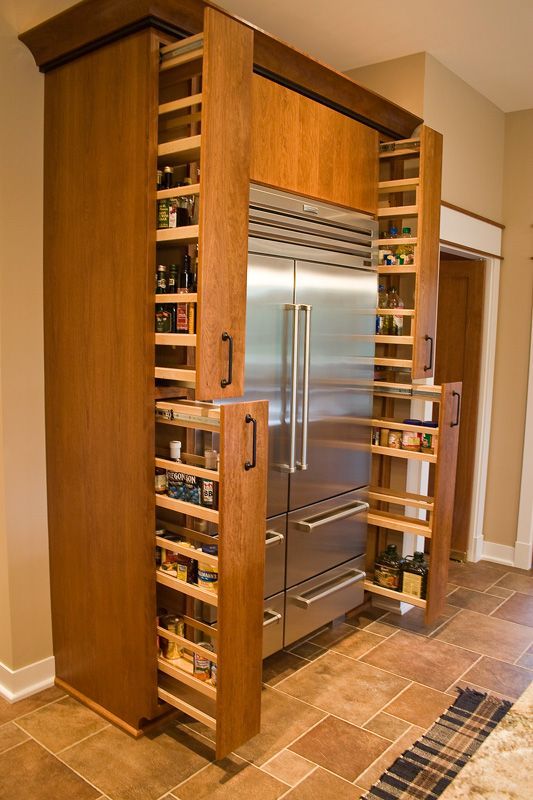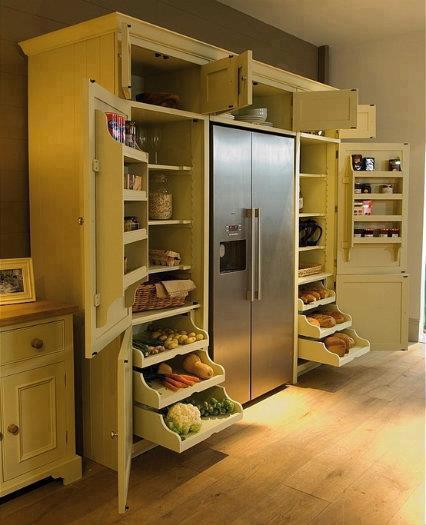 These concealable shelves not only free up counter and cabinet space, they also make for a great talking point when entertaining guests. Additionally, they allow you to have all your food in one centralized spot in the kitchen.
2. Corner Drawers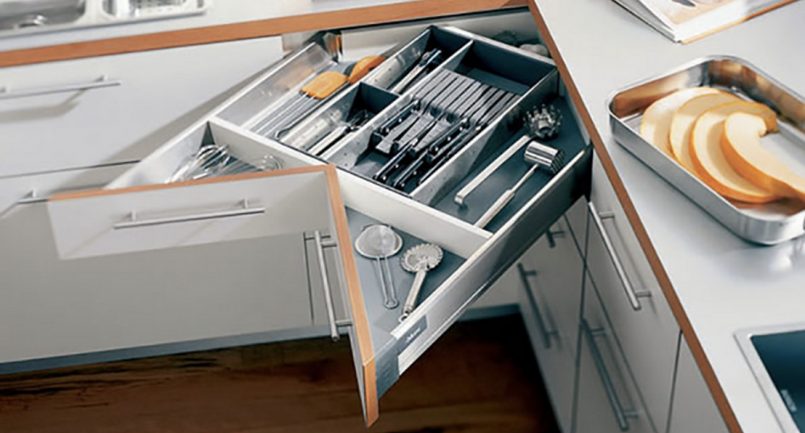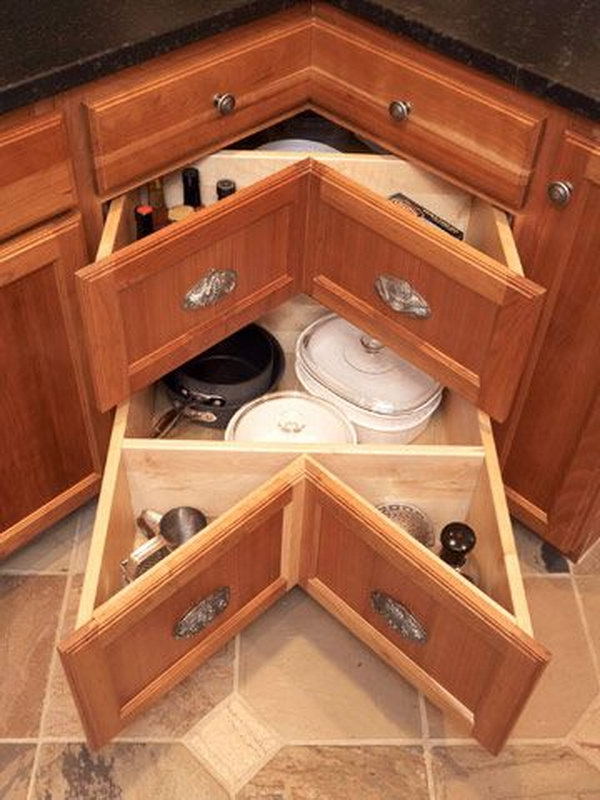 Make the most of the corners of your cabinets! Corner drawers can be a hassle, making it difficult to use two at a time. By crafting the drawers to take advantage of this shape, you can fit a lot more items than you typically would be able to.
3. Kitchen Island Storage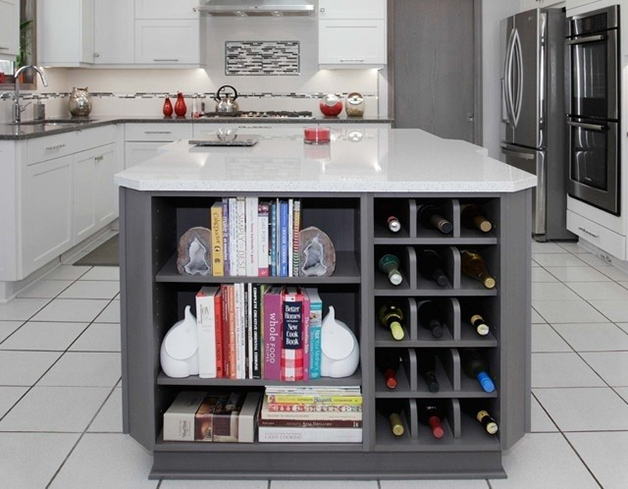 The island is not just for preparing and serving food. Adding open shelving space on the ends of your kitchen island instantly creates spots for cookbooks, dishes, and more, without adding clutter to the spaces you're already using.
4. Utensil Storage in Cabinets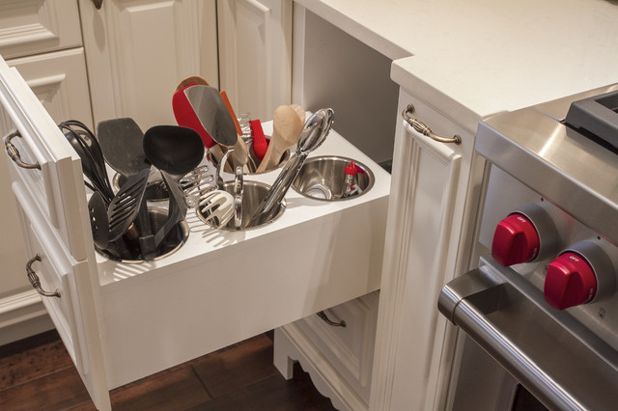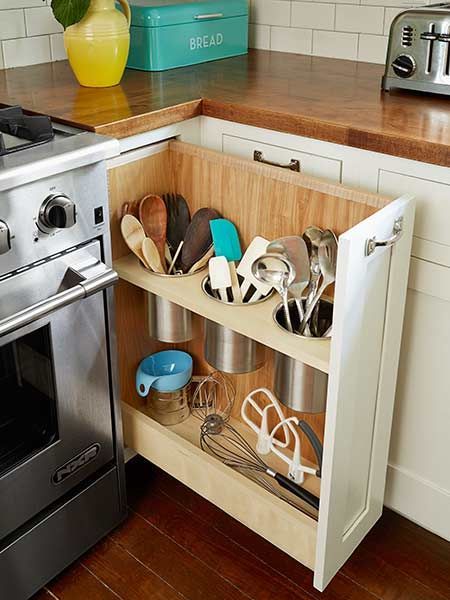 Putting utensils such as spatulas, whisks, and the like in drawers can quickly lead to messy and sometimes unopenable drawers. Using containers on top of your counters is slightly better, but if you have a multitude of utensils it can create a cluttered look. Pull-out drawers give you the best of both worlds: better ability to separate utensils in an easily accessible way, and no countertop clutter.
5. Under the Sink Chemical and Cleaning Supply Storage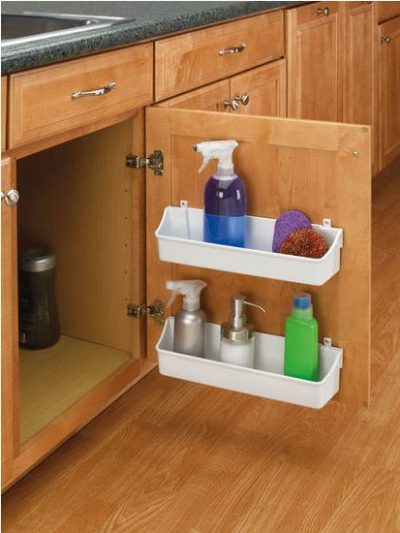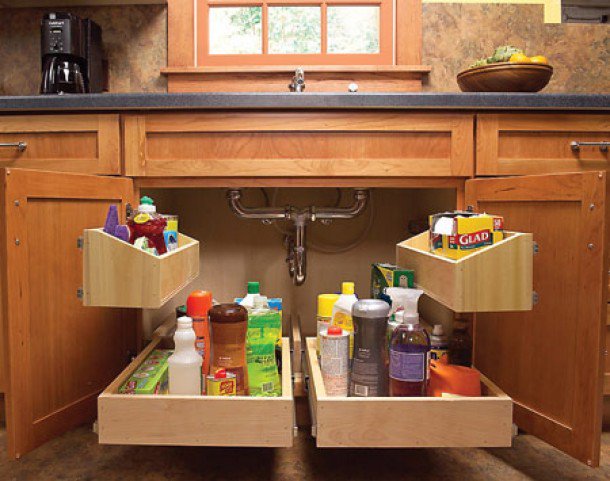 Many of us use the space underneath the sink to keep our cleaning supplies and other chemicals. However that space can be one of the most disorganized spots in the entire kitchen. Adding organization elements to this area can make it look better almost instantly. If you're not up for building pull-out shelving, you can easily attach trays to the door as pictured above. And of course, no matter how you choose to update this area, be sure to use child safety locks if there are children or pets present in your home.
6. Makeshift Pull-Out Drawers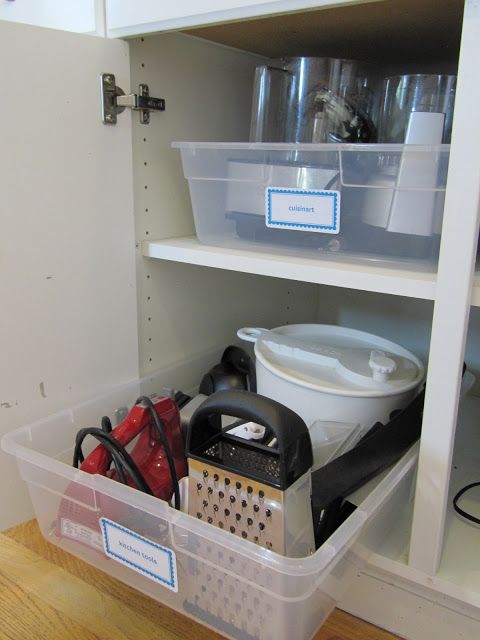 If you're looking for the function of pull-out drawers in your cabinets, but don't want to invest the time in building them, you can easily recreate the effect using clear plastic tubs. This will allow you to easily reach those objects that are usually hidden in the back of the cupboard; it's much easier to pull the tub out and grab something from the back than it is to pull out each individual item to reach that hidden pan, bowl, etc. You can also add labels to save yourself time in looking through each tub.
7. Cookie Sheet, Cutting Board, and Cupcake Tin Dividers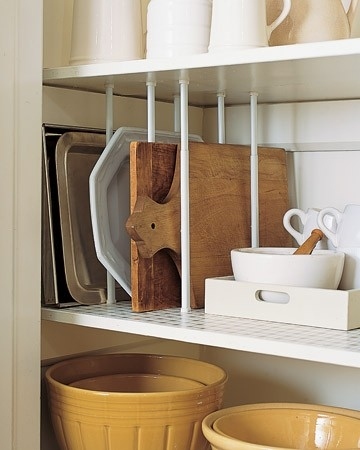 Standing kitchen tools create clean lines for a nice aesthetic, as well as making it much easier to see what you have available and simpler to grab what you need and get to cooking. This particular organization method can be easily created by using tension rods. Simply place the tension rods where you need them in the cabinet - they will not only create spots for each item, but they will be custom sized to each object.
8. DIY Lid Storage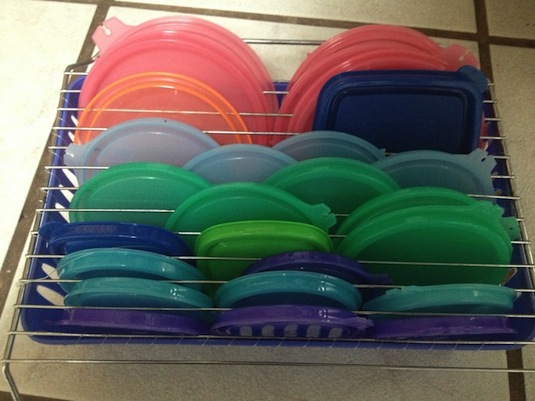 Hands down, the hardest part of my kitchen to keep organized are the lids for food storage containers. By using a basket, a drying or cooling rack, and fishing line or twine, you can make your own easily maintained lid storage. All you have to do it attach the rack to the top of the basket with the twine or fishing line and voila! Instant separation for lid storage.


Creating a pleasing kitchen environment is a great way to take pride in the home you worked so hard to make your own. If you have other unique ways of organizing or storing items in your kitchen, we'd love to hear them! And if you're ready to find a kitchen of your very own, contact Jason anytime for a free home buying consultation.