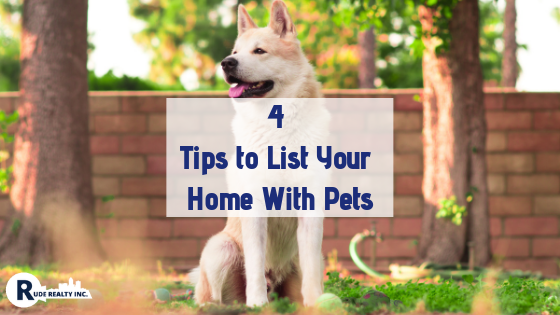 If you are a proud owner of a pet such as a cat or a dog, you probably consider them part of the family. A pet can bring joy and companionship but may also make it a challenge when considering how to list your home for sale. How to list your home with pets is a common question that gets asked often in real estate. Here are a few tips to consider when listing your home with your furry loved ones.
1. Speak with Your Pet's Veterinarian First
It is always a good idea to get your pet's veterinarian involved whenever your pet's schedule or environment could be changing. Especially if your pet is older it can be difficult for them to adapt and adjust. Just like moving can be a stressful event in your life, it can also be stressful for your pet's. A veterinarian will be able to give clear and precise strategies and tips for making the transition most comfortable and effective for your pet.
2. Relocate Your Pet from the Home
This could or could not be an option you are willing to make. A home in most cases will show more successfully if no pets are occupying the home when the buyer or buyers arrive to view it. Not having your pet or pets around can help make the buyers feel more comfortable and safer.
You may want to consider having your pet relocated for the entire listing process. It will help allow you to keep your home cleaner and give you peace of mind not needing to worry about your pets. If it is not an option to relocate your pet for this long of a period then you may want to coordinate in advance with a friend, family member, or neighbor who will be able to take care of your pet while your home is being shown. There is always the option to take your pet with you when you leave. If this is your only option be sure to have a go-bag ready for you and your pet. Be sure to include food, water, containers for food and water, and possibly toys or blankets to make your pet feel comfortable.
3. Remove Pet Odors and Stains
It is a good idea to think about having your carpeting professionally cleaned and shampooed before listing your home. Your pets can have accidents, drag in outside dirt and mud, or create an odor from regular use. You will also want to consider any possible cleaning care to your furniture if your pets frequently use them. Odors can get trapped in any fabric furniture or carpet. You as the homeowner can become use to the odor and unaware of how strong it can be. Having clean carpets and an odor-free home will create an inviting and fresh environment for your potential buyers.
4. Clean up Your Yard
If you have a dog or any pet that uses the yard as a place to relieve themselves, it is always recommended to pick up any pet waste before every showing. Most buyers will walk through the yard to check out the rest of the property. You may also want to consider reseeding or putting down sod to replace any lawn damage like brown or bold spots.
Reference
Gassett. (February 11, 2014). 7 Tips to Sell a Home with Pets. Retrieved from https://www.maxrealestateexposure.com/tips-